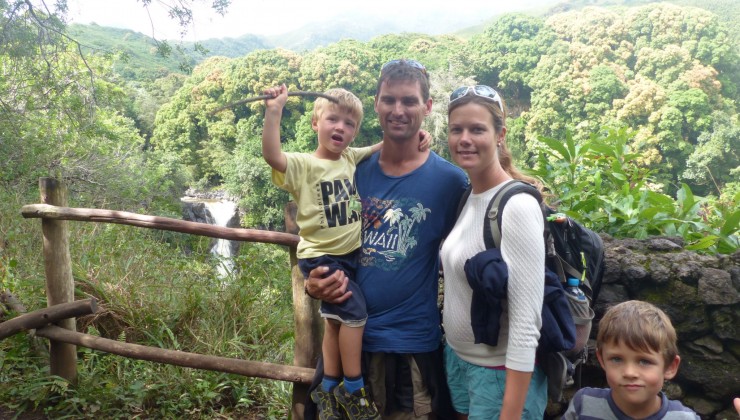 The Road to Hana is a famous Maui drive. Some even say that you cannot claim to have visited Maui if you have not followed this long winding road from Kahului to Hana on the East side of the island and further along the coast to "the seven pools".
Though only about 75 kilometers from Haiku where we stayed it is a loooooong drive with 600+ hairpin turns and 59 one-lane bridges that you need to cross. We got up really early at 6.15 am (at least for us) and were ready to leave about an hour later.
Again our faithful GypSy Guide to Maui App provided excellent information about sights on the way and stories about Maui and Hawaiian history, myths and legends. Besides the first half an hour drive on the Hana-highway, viewpoints and waterfalls are ever present and you could spend days if you wanted to investigate everything.
We only did the stops our guide presented as "must-sees" but still we did not reach the 7 pools before 2 pm. On the way there we saw spectacular rainforest, beautiful lava fields, caves, black sand beaches and some amazing lava structures constantly being pounded by the waves.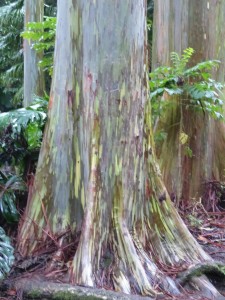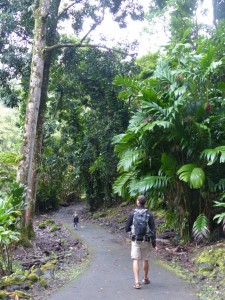 Waterfalls, waterfalls and waterfalls: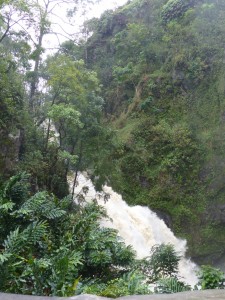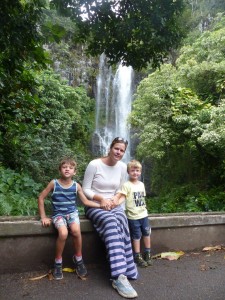 Waianapanapa national park was one of the highlights featuring black sand beaches, caves and beautiful lava formations. Black sand and pebbles – not the greyish version you see in some places but really black: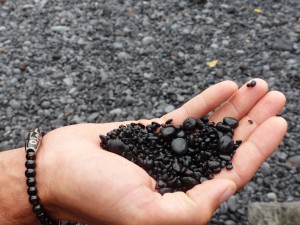 Always a fun game to see if you can build the tallest stone structure. We beat the others by a large margin, but either someone got envious our the wind took it because it was not standing on the way back (probably the wind)
Normally you can continue your drive all the way around the east side of the Island (it is gravel road in some places and you will be violating you agreement with the car rental agency) but on this day the road was closed after 7 pools so that decision was made up for us (and Line was relieved not to be the party pooper again).
Just the same as we felt we had done a lot of driving and needed some exercise and to get out of the car. At the 7 pools we paid the ridiculously high 15 USD entrance fee (had it been 3 and not 4 days since we went to the top of Haleakala crater we could have reused that ticket since it is the same national park and the ticket is valid for 3 days) and did the beautiful hike up to the waterfall.
Trail-map: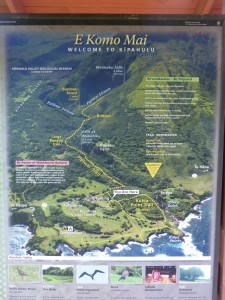 One of the rare pictures with the 4 of us:
Giant tree: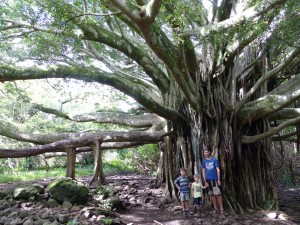 Never seen a tree before that grows supports for the branches that are as thick as a tree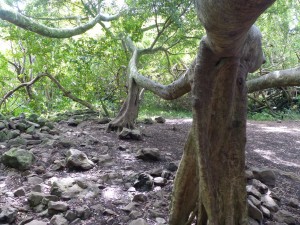 Beautiful Bamboo forrest can be found on the way: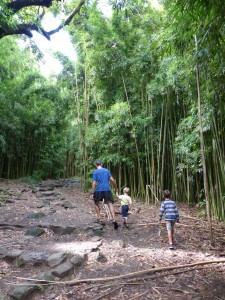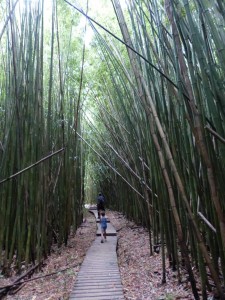 A few bridges cross the streams: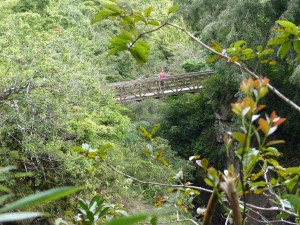 Tallest waterfall we have seen so far can be found at the end of the hike: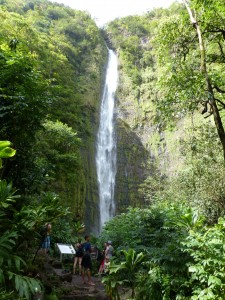 It was a great 2,5 hour return trip and Noah and Jesper even did the short 1 km. trail to the lower pools afterwards and got a few great pictures from "below".
When we were ready to head back it was already 5 pm and we were surprised that the GPS suggested it was a 3 hour and 15 min. drive back to Haiku. That spelled late dinner and very tired kids. Fortunately it "only" took 2,5 hours but it was dark for the last 45 minutes and a challenge for everybody in terms of motion sickness and Jesper was totally bombed when we got home from driving so many hours on narrow and winding roads – with no possibility to see around most corners.
All in all it was a beautiful trip that truly shows the tropic and green side of Maui. 4.000 millimeters of rain fall every year, which makes for an incredible amount of waterfalls and beautiful rainforest. We were glad we did it but will probably pass on a rain check should we visit Maui again 🙂 .
Comments