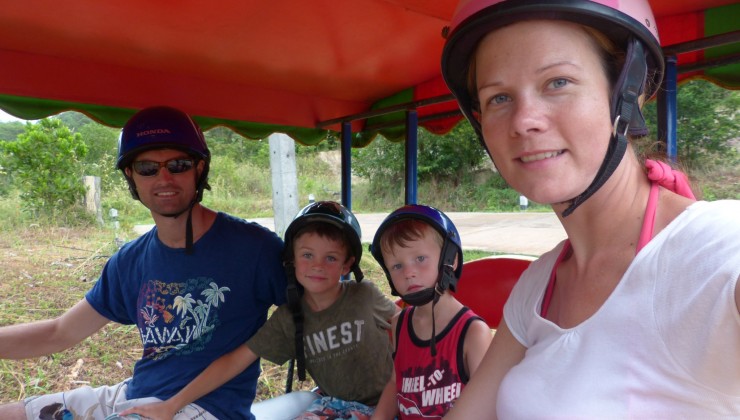 Renting a TukTuk
Getting around on islands in Thailand is usually much cheaper and easier if you rent a motorbike. That was not a problem when it was just the two of us, but though the locals (and many tourists for that matter) feel perfectly safe driving with their children on a normal motorbike/scooter we did not feel like taking the chance.
We settled on renting the island version of a TukTuk (basically a motorbike with a big side carriage), but that proved harder than expected. First we were told by the reception at our guesthouse that it was not possible at all since the police considered it too dangerous. Having seen western families with their own we did not quite buy that and started asking around.
The first four places we asked the answer was the same – not possible. But finally a mechanic pointed us to a shop 100 meters away from the main road that might have one available. They had, but first we had to prove that Jesper was able to drive it, and second we were given specific instructions that we could not go too far south – because the roads would get too steep and winding and that we were not allowed under any circumstances to drive to Ban Sala Dan. Our conclusion so far is that the police is trying to protect the taxi drivers.
We did however get one and payed 1.000 THB renting it for two days. Expensive according to Thai standards but fair enough…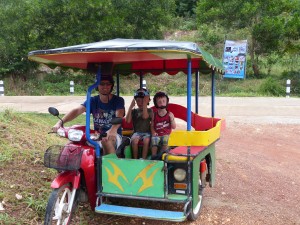 Trip to southern Lanta
We had a great day driving the 20 km. to the southern end of Koh Lanta and got as far as Bamboo Bay before the roads got too steep for us to drive. A couple of kilometers before Bamboo Bay we had lunch at a restaurant with a fantastic view. It was in a pretty isolated place and with no other visitors we had our doubts whether it was good, but the food was fantastic and within 20 min. after we arrived all tables were full. Highly recommended!
We hiked the last kilometer down the beach and were rewarded with a very nice place to spend a couple of hours
We did not bring any toys but who needs that when you can climb on cliffs and an empty coconut makes for a perfect ball
To be honest we probably should have stopped a few kilometers before reaching Bamboo Bay since we did have to push the TukTuk to get over some of the steepest places (19%).
Southern Lanta is packed with Monkeys and we even had to stop in some places to wait for a pack to cross the road.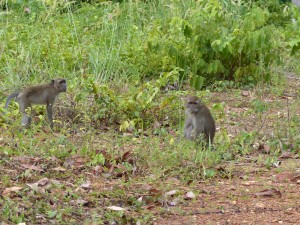 A really nice two days enjoying the freedom of our own "taxi" but also a bit more action packed that we would have liked. Always a funny story to tell afterwards but being on a steep hill where the front wheel is suddenly not touching the ground with two children on board and Line having to jump out in a hurry to push can be pretty stressful 🙂 Turns out 19% is actually a pretty steep road and on the way back Line, Noah and Vitus got out and walked in the steepest places.
Comments