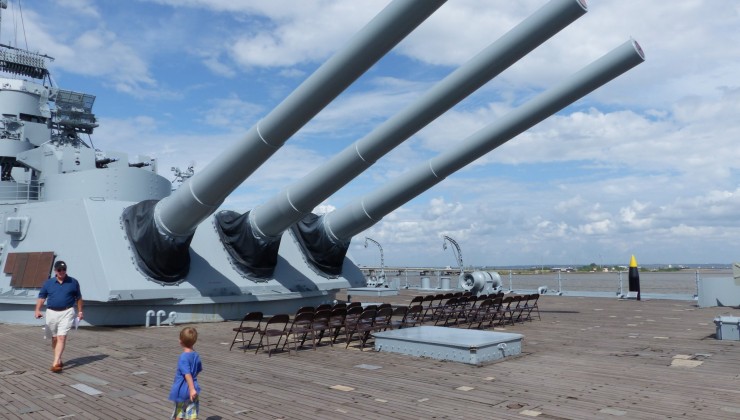 Mobile was not exactly close to our campground on Dauphin Island so we went back and forth in terms of making the 45 min. trip to visit USS Alabama or not. After reading a lot of great reviews we decided to go which we are really happy we did.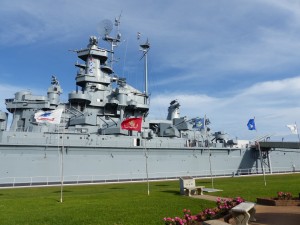 The USS Alabama ship is a great attraction on its own with 3 self-guided tours taking you around the entire ship and with lots, lots, lots and lots of displays and descriptions. All three routes are marked by a combination of color codes and numbers and whenever the boys got tired we turned it into a treasure hunt to find the next number. Each tour is scheduled to take around 30 minutes but we took much longer despite the fact that we walked by many of the displays.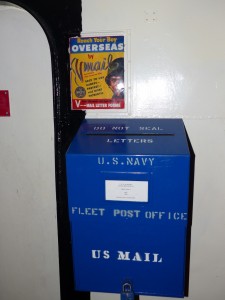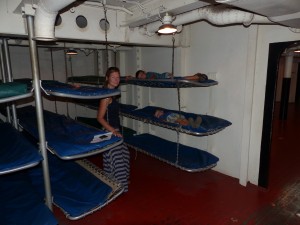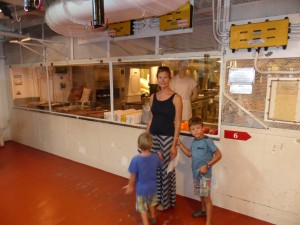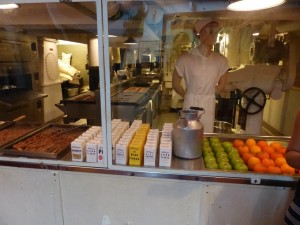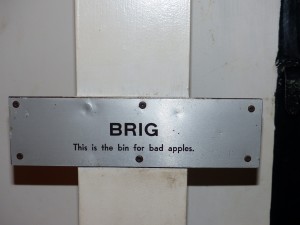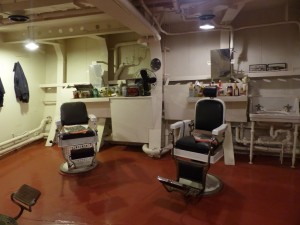 There is a huge amount of information and you get to learn anything from the amount of gun-powder needed to send a 2700 pound (roughly 1400 kg) missile flying 21 miles (about 34 km.) to how they slept, dined, worked out, repaired and communicated on a ship manned by 2500 people.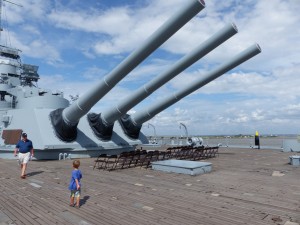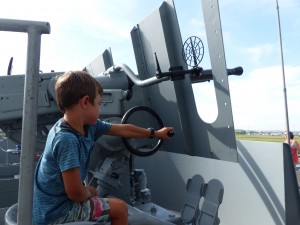 And while this alone would easily justify the entrance price of 13 USD per adult (kids aged 5 and under are free) the park is so much more.
Welcome aboard: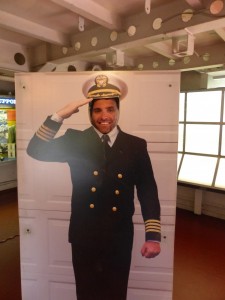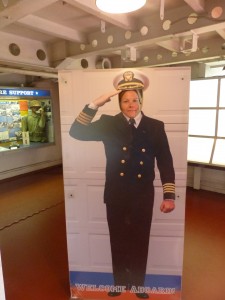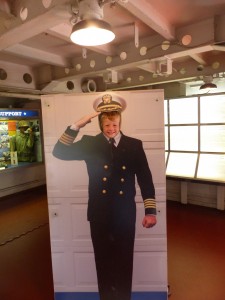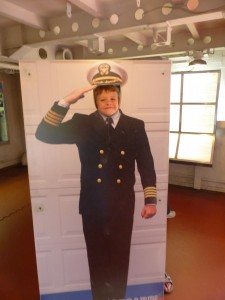 Even before you enter the actual park lots of planes, helicopters and tanks are on display around the parking lot and you can easily spend an hour looking at it all (essentially just paying 2 USD for parking).
Even one of history's fastest jets capable of Mach 3.5 (roughly 3700 kph)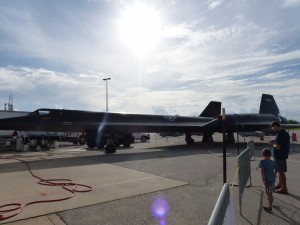 Once inside, the USS Alabama is naturally the biggest attraction but almost as impressive is the Submarine "The Drum".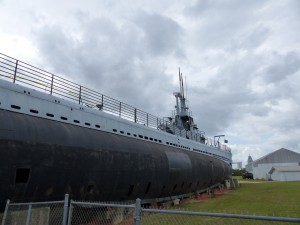 As with USS Alabama you can get inside and walk around and get a real feel for the life in a submarine. Signs and displays are everywhere and interesting details include that the best cooks and the best food are always found on submarines and that 65 percent of the cooks in the White House have served on a submarine.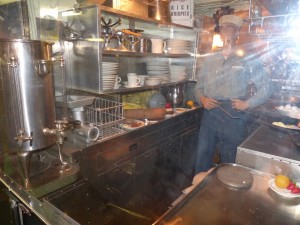 They even found space for an ice-cream maker: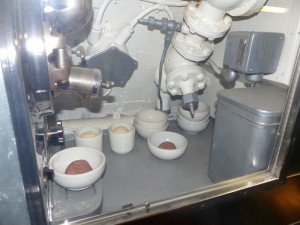 It was even possible to climb the periscope tower and look through the periscope at the buildings outside! We were amazed at how freely we could walk around and that almost every part of the submarine and ship was open to the public.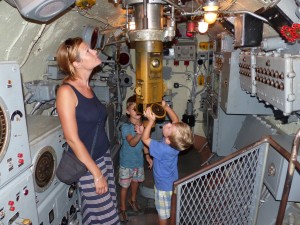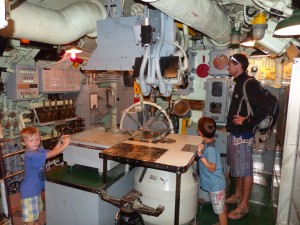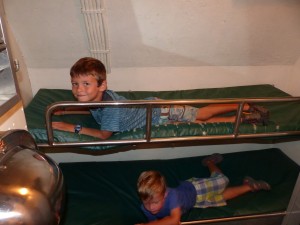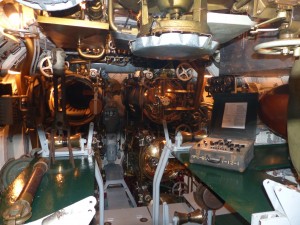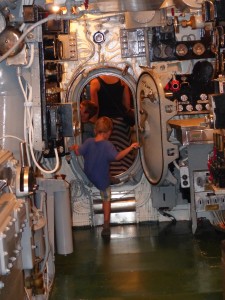 Just next to the "The Drum" the worlds first attack submarine is on display. Driven by man power and found by our very own favourite adventure author Clive Cussler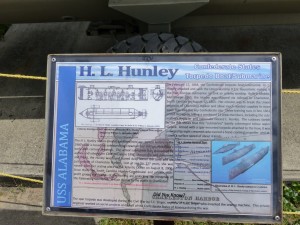 There is also a Hangar with lots of planes and videos to see.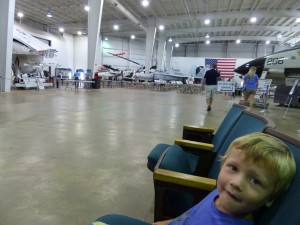 Even a flight simulator where you are taken back to World War 2 and the bombing of ships and MIG fighter jets. Noah and Jesper gave it a try, but it did disappoint a bit – though a fun experience it is not very convincing and it failed to provide even a mild adrenalin rush. Fortunately it was only 5 USD per person so not too much money wasted :-).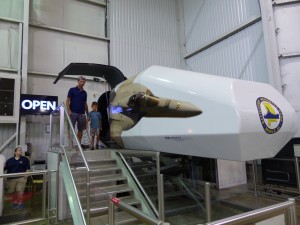 We ended up spending almost 5 hours at the park but still did not manage to cover it all, and we had to walk by lots of displays without catching the details. None of us are normally very interested in the details of WWII or war in general, but non-the less we found it incredibly interesting and we learned a lot. If you are a WWII buff and want to get all the details you could easily spend all day there.
Last stop was the USS Alabama's bridge where the boys got to take the wheel and we all enjoyed the amazing view from above.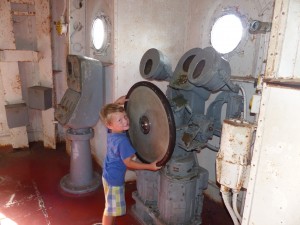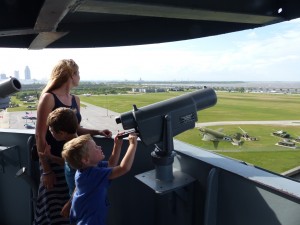 Everybody was totally exhausted after the long day and the huge amount of information and Vitus almost fell a sleep as we took a final look at the B-52D bomber plane on display right beside the parking lot.
Dinner was eaten at Steak N Shake before returning to Dauphin Island
Comments