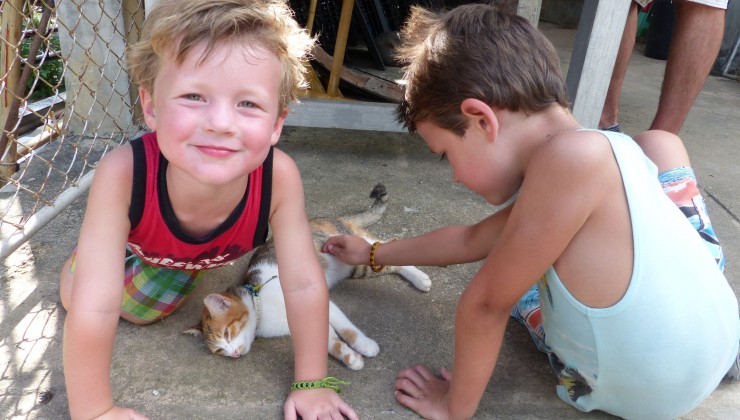 With two kids that love animals and reading very good reviews about it on TripAdvisor naturally we had to pay the Animal Welfare Center a visit to help out playing with the cats and take a dog for a walk.
It really is a very nice place with some very good people. We spent about 2,5 hours there petting multiple cats, getting a tour of the premises and walking a blind dog, named Jude, for about an hour.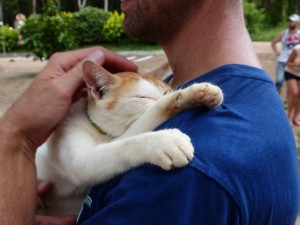 The highlight for the children was the part of the tour that included a visit to the puppy area. While many of the grown-up dogs had been there for years all the puppies had already been adopted and were just waiting to go to their new owners.
Given the considerable price you have to pay for transport, quarantine etc. it is actually quite remarkable how many animals are adopted through the center and the walls there are packed with pictures of happy animals and their new owners.
Quite a lot of the animals are adopted by the volunteers who work there for a period of typically 1-3 months and fall in love with a specific dog or cat. That actually also included the blind dog Jude that we helped take for a walk. Had we not known she was blind we never would have figured out, she walked like any normal dog and seemed to do so without any problems. But while she was not actually well behaved when Line or Jesper was walking her (pulling extremely hard on the leash to the extend where she was mostly walking just on her hind legs) she walked perfectly when Noah was holding her. Maybe she could sense that he was a child and did not have the power to match her.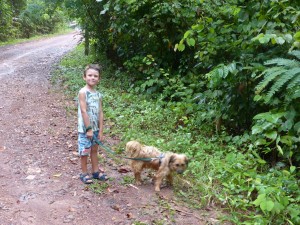 It was 2,5 hours well spent (though extremely hot that day) and we all enjoyed our time there. While they make clear that they depend on donations they do not pressure you in any way and it is totally up to you if you want to give anything or just help out petting the cats or walking the dogs. We made a small donation, but since it takes around 10.000 USD to keep it running every month it is a good thing that they are backed by the Time for Lime restaurant and cookery school.
A bonus feature was the Lean nature of the place. A management consultant must have volunteered at the place since "standard-work" descriptions were posted, improved and updated everywhere – Everything from how to do the laundry for sick cats to cleaning and feeding. A strategy that seemed almost a necessity with the high turnover of volunteers.
Comments