On our way from Tulum to our next stop in Valladolid we paid another visit to Coba. This time so see the famous ruins there and climb the highest pyramid on the Yucatan Peninsula. Rumors have it that it will be closed off for climbing by the end of 2016 to limit the tear and wear on the structure.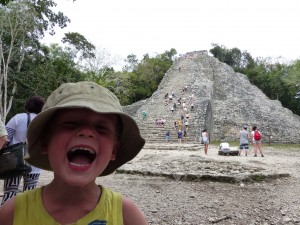 The archaeological site in Coba is a vast complex. Once inside you can rent bicycles to make it easier to get around. Unfortunately they did not have one for Vitus. We tried really hard to convince them to let us rent a Tri-cycle but that was only possible if it included a driver (not even if we paid the full price of 125 pesos). Since we wanted to go explore on our own we ended up just renting a bike for Noah and he had great fun racing around the tracks in the jungle – riding a bike for the first time since Thailand.
If you are just in normal physical condition you can easily walk around the site. It is about 3 kilometers – return, to the big pyramid and if you make the most popular detours on the way you add another 500-700 meters, still very doable even with smaller kids. If you want to visit the ruins that are the farthest away you add another 2 kilometers.
The restaurant owner, where we had lunch, had however advised us to skip it since they are almost exactly the same you see in some of the other places. He was btw. pure Maya and both his parents spoke neither Spanish or English, but only the local Maya dialect. The restaurant is just 100 meters down the street from the parking lot to the ruins and highly recommendable – both in terms of food and service:
The Coba Archeological site really is a very nice place to visit. Most of the tracks are shaded and it is not crowded. The Mayan's played a weird sport where you are trying to score goals by hitting a small ball with your hip through a very narrow hole set up high on a wall. Scoring was apparently pretty rare – and winning a tournament you were allowed to get your head chopped off (yes seriously) – thereby avoiding the hard trials needed if you were to die in a regular fashion before going to heaven.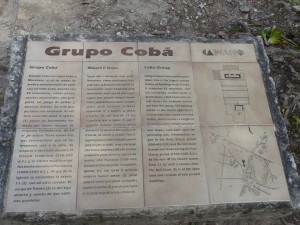 The main attraction however is the tallest pyramid in Yucatan. At 42 meters it is quite a climb. Line went first and with her new plan to not let fear or other factors control her life she made it all the way to the top and got a big applause from the boys when she got down. In just 2 weeks she has now managed to climb higher, dive deeper and jump into water from higher platforms than ever before in her life. An adrenalin junkie in the making?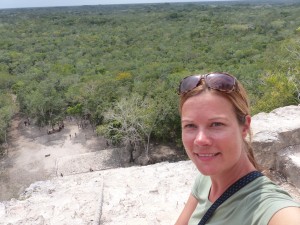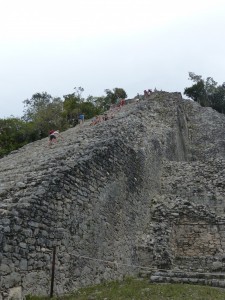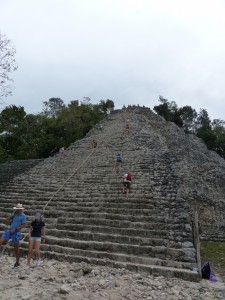 Vitus was not allowed to go higher than half way up (which he protested mildly, but Line put her foot down) and after that Noah and Jesper also made a trip to the top.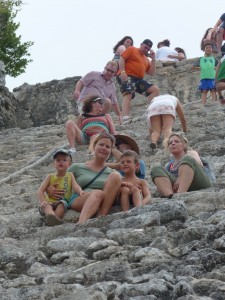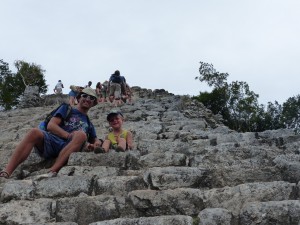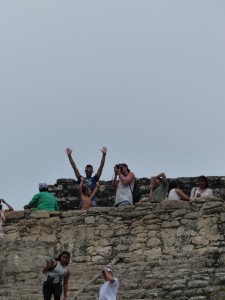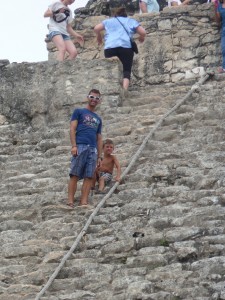 Again a guide would have made the trip to the ruins more interesting and if you are not traveling with children that will not stay quiet nor in the same place for 1 minute at a time, we will definitely recommend that you hire one. We had, however, done a bit of research before going so we knew a bit of the history and stories.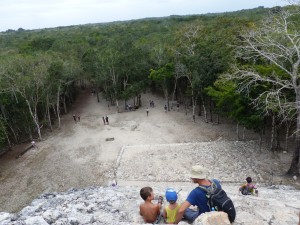 We also saw quite a lot of Howler Monkeys swinging easily from tree to tree, but they were so fast we never managed to get a good shot of them.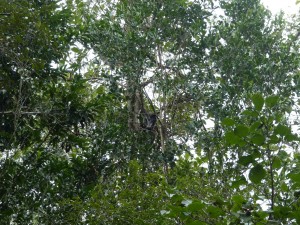 After the visit we drove the 1 hour to Valladolid to our next AirBnB stay. This turned out to be quite an upgrade from our previous one – and though difficult to find a fantastic and still very affordable place to stay.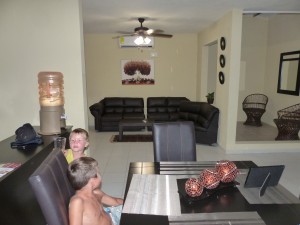 Comments