On our first day in Puerto Morelos, we slept until 10.30 AM because of our jetlag and getting to bed at 1 AM. After breakfast we drove the 3 Km to Puerto Morelos town, which is a lovely small beach town with lots of different restaurants, a very authentic Mexican feel to it, and friendly people.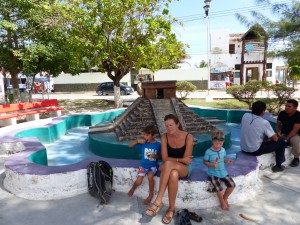 We had lunch at a small street restaurant and spent a couple of hours playing at the beach.
The weather wasn't very good, so only Jesper went in, as Line and the boys found it to be too cold and windy. Of course Jesper almost instantly spotted a huge stingray (at least 1 meter wide) and lots of big fish. But still this wasn't enough to convince Line and Noah to get in the water. He went out a second time with the GoPro and were lucky to find the ray in the same spot again.
So far Mexico has been a very pleasant surprise for us. Puerto Morelos isn't crowded with people at all, the locals are super friendly, the food is fantastic, the beach is beautiful and a big reef just 500 meters from the shore (more on that in the next post). The weather was cooler (around 24 degrees Celcius) and cloudy the first two days but then we managed to do things like going to a hairdresser and getting a much needed haircut – 4 people for 90 DKK (13,5 USD)!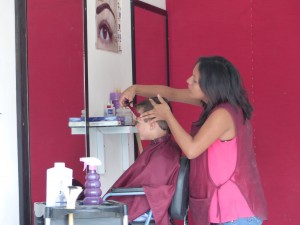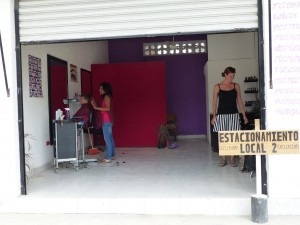 We were a bit nervous (to say the least) bout Vitus getting a haircut. Just doing it ourselves and being really careful, it still requires quite a lot of patience and some stressful moments, but with limited coaching and only a tiny amount of bribe he actually did very well and did not complain or cry out a single time.
Noah requested a mohawk now that his hair was finally short enough to do it:
They even have playgrounds – something that makes for an instant high rating in the boys' book.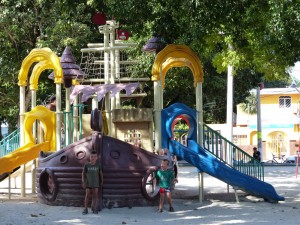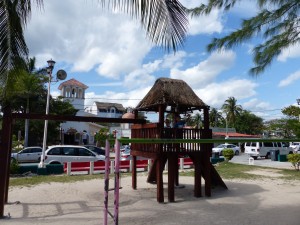 So far we really seem to have hit the jackpot here in Mexico: Very authentic and with much more of a local touch. Hawaii and LA definitely had their moments but Mexico just seems so much more relaxed and easy going.
Comments