Probably we did not realize how eager we had been to get out of LA before we got to Yucatan, Mexico, but big cities are really not our thing. Especially because of the traffic in LA – it took forever to get anywhere because no matter the time of the day the freeways, highways and roads were packed with cars.
Anyway, traffic was bad again on the way to the airport, so we were a bit worked up as we got there (read: heated arguments about who told whom the night before that we should have left earlier and that a 20 minute buffer for traffic was not nearly enough). Actually we were making good time heading out the door until Noah stepped in a dog pooh on the way out which took 10 minutes to get out of his shoe (of course we told him in the calmest and most controlled way that stepping in a dog poo as we are heading to the airport in the morning is a terrible idea)
All the stress was for nothing as we made it in time and as we got through security noticed on our boarding cards that we were scheduled to fly at 11.05 AM instead of 10 AM. Much worse, however, our second flight from Phoenix to Cancun was scheduled to depart at 11 PM and be in Cancun at 4.30 AM in the morning instead of 8 PM in the evening. That meant we would loose a whole night's sleep – not cool with small children (or in any case for that matter).
So Jesper went and spoke to the American Airlines' employee at the gate (maybe not in a perfectly calm and controlled manner). The problem was that the screen in the airport was still showing the original departure time so Jesper thought we had just been put on the next flight for no reason (except the convenience of the airline due to overbooking). After a few phone calls the AA employee told us that the screen was showing the wrong departure and our flight to Phoenix had indeed been delayed for an hour and therefore we would miss our first connection in Phoenix resulting in the major delay. After another set of heated word exchanges – she rebooked us to Cancun via Dallas (and yes, Jesper did remember to tell her that he was sorry for the harsh words and that she was actually not the one to blame – look who is growing up 🙂 ). That meant we could land in Cancun at 10.30 PM – still two hours late but definitely better than 4.30 AM.
As we got to Cancun the shuttle bus that should take us to the car rental company, a new company called Goldcar, just didn't show up, while all other company's shuttles came all the time. Jesper ran around trying to find someone who spoke English and could help us contact the rental company while Line looked after kids and luggage.
After speaking to a guy from Hertz for a long time, the Hertz guy convinced us that the people at Goldcar had gone home for the day, and we wouldn't be able to get the car before the next day! Not great at 23.15 PM with two tired kids. So he gave us a good price on a Hertz car for 2 days, so we could get going. This meant that Jesper would have to drive back to Cancun after the two days to switch cars and also having to call Goldcar the next day to change the reservation. After that the Hertz shuttle took us to the car rental central. There Jesper decided to walk over to Goldcar, to check if they had indeed left or we had just been "had". Of course they were still open and had our car ready, but couldn't really explain why they hadn't picked us up.
Back to Hertz to tell them they had to cancel the booking because their guy lied to us at the airport, back to Goldcar with kids and luggage, fill in 100 forms, discussing fees, more waiting, and then 2 hours after landing we were finally good to go in our almost new VW Gol (Weird name) and head on to Puerto Morelos 20 minutes south of Cancun airport.
We were a bit concerned about driving around Mexico at midnight, but it went very smoothly, and we even found a small supermarket near our house where we could buy some groceries for breakfast.
A bit of praise for our boys is due here – they are soooo good at travelling, we hardly hear any complaints from them, they are very well behaved when we fly and never bother the other passengers (who often praise them when we have landed). It's only when we are standing in line to board or go through security/immigration that they can be restless, but you can't really blame them for that (only us for not always remembering that they are entitled to be).
The house in Puerto Morelos is again something we found on AirBnB. We had our 100 USD voucher from the cockroach-and-mouse-house-incident, which was a nice contribution to the rent. It is a two bedroom house with a living room and kitchen, simply furnished, but very functional and just great to have somewhere to be when the kids are sleeping – something you appreciate after sitting in a dark room many nights after 8-9 PM when the kids have gone to bed, or evicted to a cold or very warm porch outside.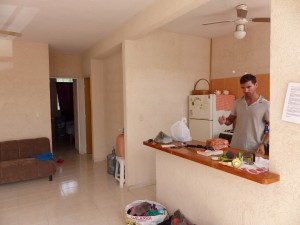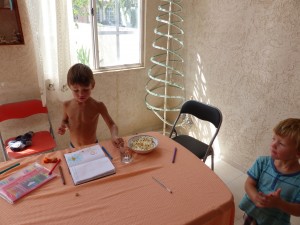 Comments