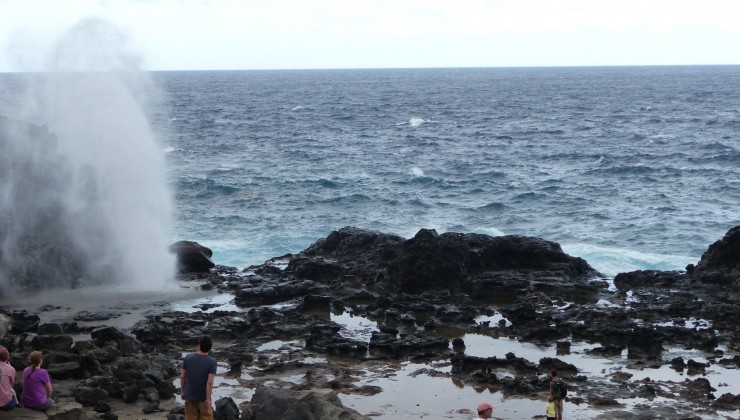 Janice recommended us to drive around the western tip of Maui to see the many different types of landscape. Including a stop in the Iao Valley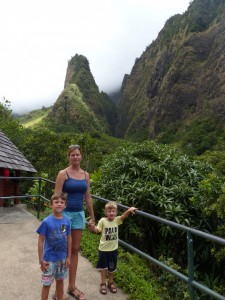 the trip took 6-7 hours., with stopovers of course.
Desert like landscapes are exchanged for tropical rain forrest in just a few minutes.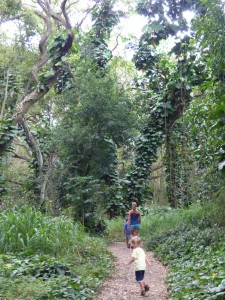 When we started our trip Vitus was very scared of heights. No more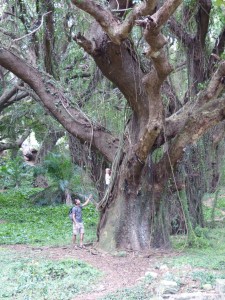 The road took us along the coast and once you pass the most western part of Maui the road becomes a very narrow one-lane mountain road (pretty scary sometimes, or at least Line thought so). Fortunately we had our app "GypSy Guide to Maui" with us and it did not fail to applaud the female passengers for making it through the difficult drive. DO NOT GO ON A SELFGUIDED DRIVE AROUND MAUI WITHOUT THIS GUIDE. IT IS BRILLIANT!!! The app costs 10 Dollars and is well worth the money.
In some places there was only room for one car, but fortunately there were small pockets for when we met another car. And we were driving up against the mountain, not at the edge;-) Only once did we have to back up 30 meters to get around another car – which did cause some nervous tics to appear on the passenger side followed by lots of good advice to the already very concentrated driver (who did not fully appreciate the great input to his driving)
For the kids, especially Vitus, the drive was a bit long, but we got to see a lot of beautiful places, and also research a bit along the way as to which beaches would be suitable for the kids. Most beaches in Maui have huge waves and dangerous currents, so we couldn't just jump in the water everywhere and due to a recent storm some of the calmer places that were usually ideal for snorkeling had very big waves.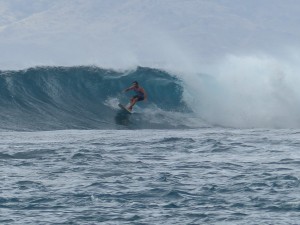 Though many beautiful places can be found on the West Maui Drive our favorite was definitely the Nakalele Blowhole. A recent storm sent huge waves crashing against the cliff and the water rose around 30 meters (100 feet) into the air followed by a large "puff" sound. Absolutely beautiful and the lava landscape around the blowhole was incredible.
It was a very long drive, but if nothing else it proved how much better Noah has gotten in terms of motion sickness. He felt a bit weary at the end but sitting in the back of a car for at least two hours of "hair pin" turns, that's totally expected. Just a few weeks/months ago he would have thrown up after the first 15 minutes. So don't do this if you are prone to motion sickness!! It is even worse on the "road to Hana" (more on that in a later blog)
Comments