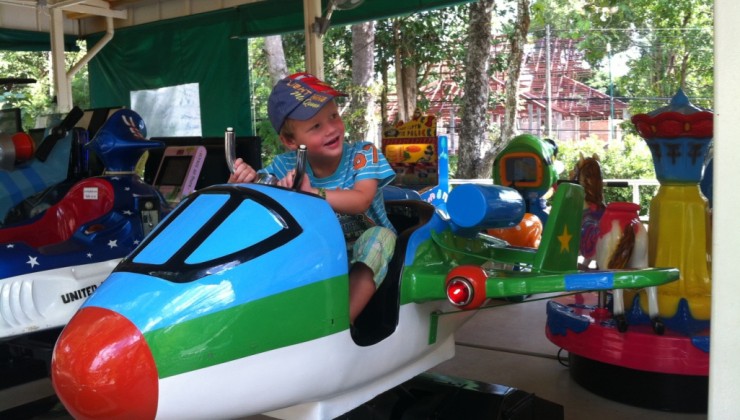 Even though we couldn't explore Chiang Mai the way we had planned (since we got sick), we still managed to try a few things:
Jesper and Noah wanted to try Zip-Lining despite Noah being only 5. Read more about it in this post
We really hadn't done any research on the Chiang Mai night safari park, as we bought the trip spontaneously walking around Chiang Mai. We were picked up at 7 PM, and as we got to the park we realised that it was not "only" a safari park. We were taken to a scene, where we watched a very weird mix of indigenous dancing to Latin music (in Spanish) – where all the dancers seemed to improvise and just dance what they felt like. But the kids liked it, Vitus even so much that he couldn't sit still, but had to dance along.
After the dancing show, we were led outside to watch a "water-fountain show" where large colorfully up-lit pillars of water danced to music – starting to "played alive" by Safri Duo and ending with some sort of marching music. It was actually quite beautiful and entertaining, and Noah loved it so much, that he yelled and WOW'ed during the entire performance.
Then it was time for the actual safari to begin. This took place in trams that sped through the park with a few brief stops along the way to see "the most interesting animals" and feed some of them. We had bought a basket of fruit for both of the kids to feed the animals. BIG mistake! At the second stop, a huge giraffe attacked the baskets from the kids' hands, and they were screaming and crying – because they got scared by the eager giraffe, but also because they had wanted to feed some of the other animals too. So the rest of that first tram-trip was pretty ruined, but we had another round afterwards to see other animals, and this time it went much better (we didn't buy any more fruit baskets;-)).
The park itself is quite impressive, but it seems to be a better idea to go there alone, as opposed to with a tour agency, as we would have liked to have time to walk on some of the trails in the park and see some of the animal shows. We were left with the feeling that we had only seen a small part of the park, but otherwise a nice family activity.
2 days of trekking and staying overnight at a hill tribe village:
Jesper and Noah went on a 2-day trekking tour in the mountains south of Chiang Mai. We were all supposed to go, but on the morning of our departure, Line got sick and had to stay in Chiang Mai with Vitus. Read more about the trekking tour here.
Line and Vitus went here to do something besides playing by the hotel pool, as Line was well again and Jesper and Noah were out trekking.
The park is huge, but seems neglected and with very few visitors. A shame really as it is apparent that a lot of money has been spent on the park. It even has a kids' water park, but it was closed when we were there and looked like the pools had been empty for a long time.
Inside the park it is possible to buy tickets for the busses that drive around the park. A hop-on-hop-off ticket for one round cost 30 Baht for adults and 20 Baht for children. You need to take the bus in order to see the whole park, as it it too big to walk around in one day and with some very steep hills.
The enclosures for the animals are not impressive (seen with european eyes) but also better than many other zoos we have seen around the world. We didn't buy food at the park because of the few visitors and because we had just been sick, but it is possible. We bought chips and ice cream, though, and they also have small stalls where hill tribes sell their traditional clothes and handicrafts.
Near stop number 2 (Afrika) on the bus route there are a lot of different machines for kids to try – aeroplanes, cars and princess chariots). Each costs 10 baht to try and they go for a long time. Great for small children though the parents might suffer a bit listening to the out of tune music they play.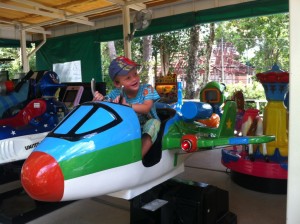 The aquarium part of the park is a nice experience, even though it too is a bit neglected. It features two tunnels that you can walk through (it has a travelator but it doesn't work anymore) and watch the fish and sharks all around you. Vitus needed a bit of persuasion to get in there, but was fascinated by the concept. The rest of the building features (very) small aquariums with different fish. After leaving the aquarium, the Exit signs lead people to the back of the building where for some reason the park seems to have decided to make a junkyard.. but from the mainroad it is obvious that it has been really nice once – and the first building you see has a huge shark through the roof.
We spent around half a day at the zoo, but if you want to see everything, you could easily spend more time there. For one adult and one child the entry was around 900 Baht (for both zoo and aquarium) and the Songthaew from Chiang Mai took around 20 minutes and cost 150 Baht each way.
Comments